Call Reports :

Shows list of dialled calls (outgoing)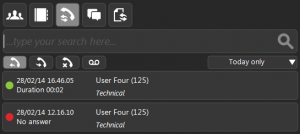 Shows list of received calls
Shows list of missed calls

Shows voice messages for the user
Each call list displays information on the call including the date, time, duration, calling name (if caller number is stored on phone book ) and phone number.
MISSED CALL REPORTS:
The missed call reports section shows missed calls.
To access the list of missed calls or voicemail's, click on one of the buttons described below:

    Shows missed calls.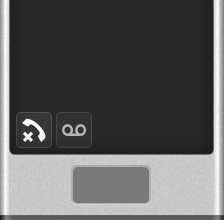 Shows voicemail messages


Shows new chat messages
New missed calls are indicated by an orange dot to distinguish them from other calls which are also displayed at the bottom of the GUI front panel.
In the Report section you can enter a number in the search field and search for it amongst received, missed and dialled calls.
The list of voice messages in your mailbox are shown in the shown voicemail messages section

To listen to a voice message, select the message from the list and double click on it.
You can also record a welcome message for your voicemail
box by clicking on the Rec welcome message button.  Once you click on the Rec welcome message button you can record the message from one of the communication device connected to the GUI. By default the pre-recorded welcome message is played if there is no separate welcome message recorded by the user.
Below are the states of icons : 

 Indicates that message is set to favourite.

 Indicates that message is not set to favourite.

 Indicates that message has been listened to.

 Indicates that message has not been listened to yet.
Finally if the user is a voicemail administrator then the user can select the voice messages for different vocal boxes and listen to them. The PBX administrator can decide who administrates the voicemail when configuring the voicemail section.