A Conference Call involves 3 or more people in a phone call conversing simultaneously. It allows people from different locations to communicate with other, for example, when remote-working in order to keep in touch with your colleagues and clients!
There are 2 ways to Conference Call with VOIspeed:
Drag and drop method: Using the user interface, you can call all parties, then drag and drop them onto each other. This is perhaps best for smaller internal groups. In this instance your extension is calling everyone.
Dial in Conference bridge (or Meeting Room) method: You can create a conference room with an external number where people can call in at an agreed time with their dial-in number and PIN code.  In this instance everyone is calling the same number.  This is the method we use when remote-working, or when arranging a call with customers or suppliers.   Please note that you must be a VOIspeed Administrator to set this up and have a spare number to use as the dial-in number. If unsure, or you would prefer VOIspeed to set it up please email support or call the technical line on 01727 238552.
1. Conference Call Drag and Drop
Making a Conference Call via the User interface is simple with our drag and drop feature.  For internal conference calls, you can simply drag and drop other people's photos/extensions into the left-hand side of the screen, put the first caller on hold, and then drag the subsequent callers on to their extension.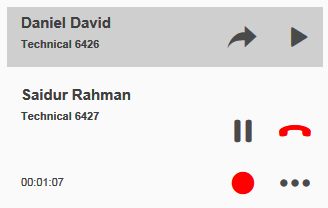 Please ensure that you click on the picture
(as opposed to the arrow which transfers the call). In the same way, you can easily answer a call externally and bring your colleagues into the conversation (see screenshot below).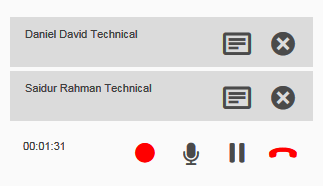 For external callers, you can call them or be called. With the active call you can manipulate the call the same way as the above.
2. Dial in Conference Calling 
For a large number of external conference call attendees and for example, if you are all working remotely, it is better to set up a Conference Bridge or what we call a Meeting Room. Please note too, that you may wish to use the meeting room feature if you don't wish to pay for the call on your own line.
To set up a meeting room you need to contact your phone system administrator or email our support team. They will provide you with a Conference number that they have created specifically as a Conference Bridge.
Simply call this new number (or add it to your speed dials) at the appropriate time to dial into the Meeting Room. Once you have called the Meeting Room you will be prompted to enter the pin number. With an internal call, for example, your Monday morning meetings, you simply call the pin number to get access. If,  however, you are calling in from a mobile phone, then you should call the external meeting room number and add the pin code.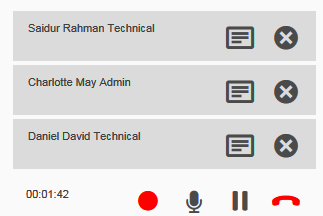 As others join the Meeting Room you will be able to speak and hear them all as if you were in a regular call.
To learn about other features on your User Interface (UI), please see those listed under this link: VOIspeed User Interface Help