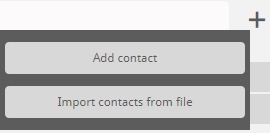 To add new contacts, enter the Phonebook section of the UI and press the 
key.  By clicking on the plus key you can choose whether to add a single contact or add a list of contacts via csv file.
ADDING A NEW CONTACT
For each new contact added via your own User Interface you can decide to make it visible to and/or editable by all users of your own company.
Three options are visible for each contact:
Visible to everyone: the contacts are visible to all users
Can be edited by anyone: the contact can be edited by all users, otherwise only by the administrator
Favourite: a favourite contact is the first to be displayed on entering the Phonebook, without needing to carry out a text search
UPLOADING CONTACTS FROM A CSV FILE
Please note that only csv. files are supported with this function.
The first line of the file should not be amended as it has the relevant fields required for matching and upload.
The field below that can specify:
Name
Surname
Company
Email
Office number
Mobile number
Home number
Other number
Fax number
Visible to everyone
Can be edited by anyone
Favourite
Each of the fields should be completed, and should be separated by semi-colons.