Hunt group monitoring from your User Interface (UI), explained below, is particularly useful to call centres.  Please note that to use this feature it has to be enabled for the user by the ph

one system administrator (which could be your IT provider or VOIspeed Ltd).  If the administrator is unsure of how to do this they can consult the User Profile section and Enter/exit groups on Creating and Configuring UCloud Users
Once enabled on your UCloud UI,  you can view hunt group traffic and activity in real-time by clicking on the  Groups TAB, which may be called 'Call Centre'.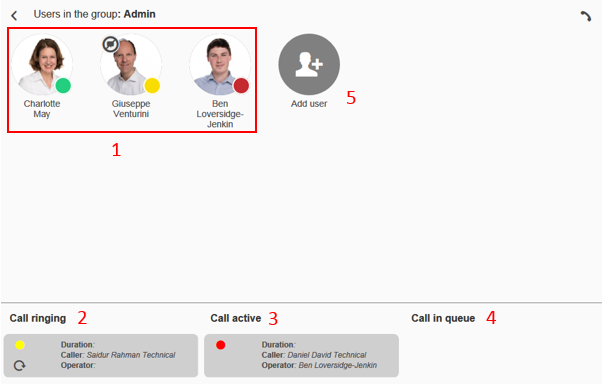 By clicking on the magnifying glass icon on the hunt group, a panel opens showing:
the list of users who are part of the group with their relative working status
a panel showing the detail of calls ringing
this panel showing the detail of active calls
a panel with the detail of the calls in the queue
a key to add new users to the group, providing the user has enabled this capability in their profile (Edit group composition – see Creating and configuring Users). Once enabled the user can manage and delete members of the group by clicking on the relevant user with the right mouse button and selecting the "Remove user from the group" item.
This section is also key to managing group ringing and automatic queuing features.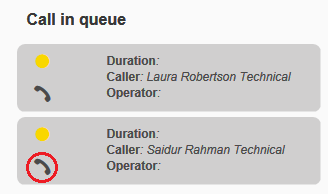 With the active calls displayed, you can pick up the calls queued to the group using the telephone handset key located on the left- hand side of the call (see red circle in the image on the right).