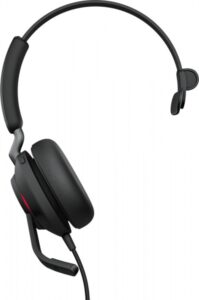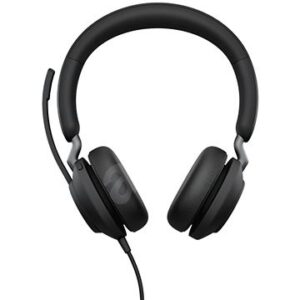 Superior USB Wired Stereo Monaural/ Binaural
Engineered to keep you on task, this monaural or binaural headset provides exceptional audio, outstanding noise isolation, superior comfort. Put on your Evolve2 40 and feel the noise around you instantly fade. Memory foam oval ear cushions and pioneering new angled design cancel 48% more of the noise around you.
Features
Connectivity
USB-A connectivity Plug-and-play connectivity to your computer or mobile device via USB-A or USB-C
Certifications Microsoft Teams. Meets Microsoft Teams Open Office requirements
Audio
Microphone 3-microphone technology for outstanding call performance
Noise-isolating design
Instant noise isolation for improved focus in noisy surroundings
Software integration Additional features available via Jabra Xpress and Jabra Direct
Powerful 40mm speakers deliver richer sound for a more immersive audio experience
Ease of use
360° busylight on both earcups is visible from all angles, acting as a do-not-disturb sign and protecting your focus
Boom arm mute and answer call
Move boom arm up to mute or down to unmute or answer call
Smart Sensor Motion sensors detect when headset is not being worn and automatically enables LED notification prompts
Call management answer/reject calls; increase/decrease speaker volume; mute
If you would like to find out more information or find help on other subjects, you can find the VOIspeed Support Page by following the link.