Files from the Toolbox menu? 
Windows Explorer accesses the management of the current company directory via WEB. The starting folder is indicated as Server and this contains all the files used by the company (audio file, configuration file and data import/export file). In this section of the configurator, it is possible to manage and organize all the files used by the company for its operation.
On the main page, there is a list of system folders of accessible files and two icons: one to add new folders ( 
) and one to upload new files ( 
).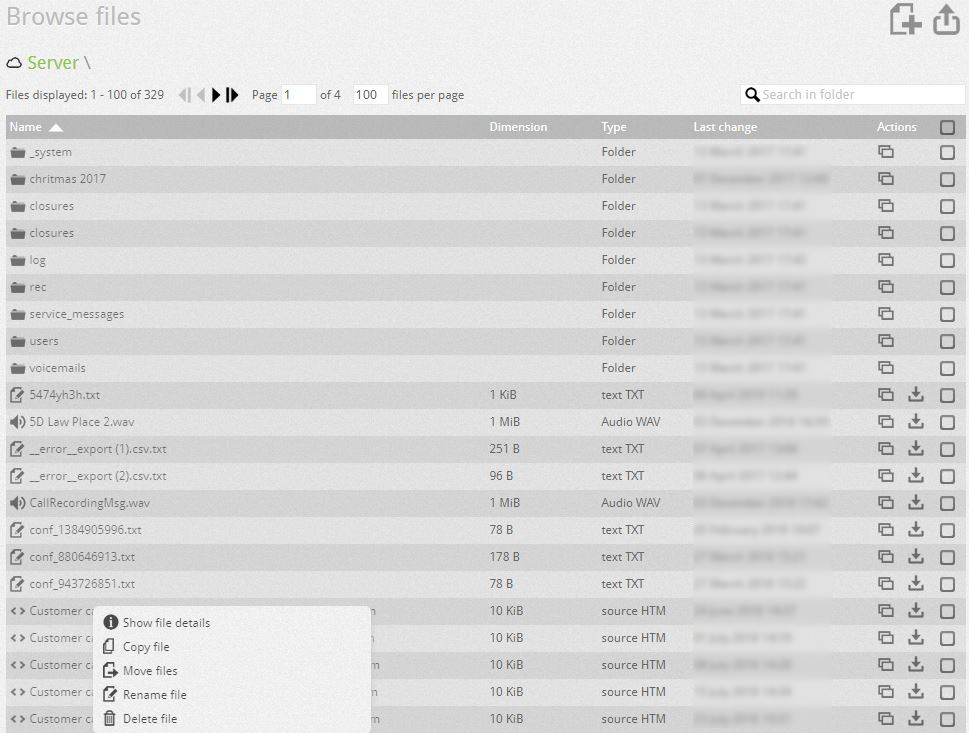 Folder 
Description
backup 
Service folder
closures 
Contains wave files recorded specifically for company closures
companies

Service folder
mailer 
It contains several sub-folders, each named as "yyyy-mm" (year-month), containing all the original files created by the PBX for sending emails, in order to check the .eml file of the email sent to analyze any problems. If the emails cannot be sent for any reason, they will be stored here and the size of this folder could grow indefinitely.
rec 
Contains the record activated on the routing rules
service_messages 
Service folder
users 
It contains a sub-folder for each user of the reference company; the sub-folders, identified by the ID of the record of the table of users in the DB of the PBX, contain the recorded audio, the voicemail files and the user's welcome message.
voicemails 
Contains company voice mail messages
Click on the folder to enter it, click on the file to "open" it: if the file is Wave type, a media player will appear for listening, if it is a text file a preview of the text will appear. In both cases, it will also be possible from this view to locally download the files or delete them.
By clicking on the icon
 relative to a file/folder or by clicking with the right button above its name, it is possible to access a series of functions on the single object.
 Show Details
  Copy File / Folder
 Move to another folder
 Rename File / Folder
  Delete File / Folder
Generate Audio: this function forces the conversion of the file into the "telephone" format used in VOIspeed (PCMA, 8kHz, 16bit, mono). It happens automatically every time a wave file is imported.

The same functions, with the exception of audio generation, can appear at the top of the page by selecting one or more files/folders by means of the checkbox at the end of each line
| | |
| --- | --- |
| Icon  | Meaning |
| | Allows you to copy the file/folder to another folder |
| | Allows you to move the file/folder to another folder |
| | Allows you to rename the file/folder |
| | It allows deleting the file/folder |
Attention: the use of these functions on system files/folders can compromise the correct functioning of the PBX