Use your VOIspeed User Interface with a headset 
You can plug your headset into your PC and control your User interface without an IP phone or any 3rd party software!  This PC Audio is easy to activate following these steps:
Firstly you need to select the 'Show button to add device' in the Layout section of your UI Settings, under 'Other Settings':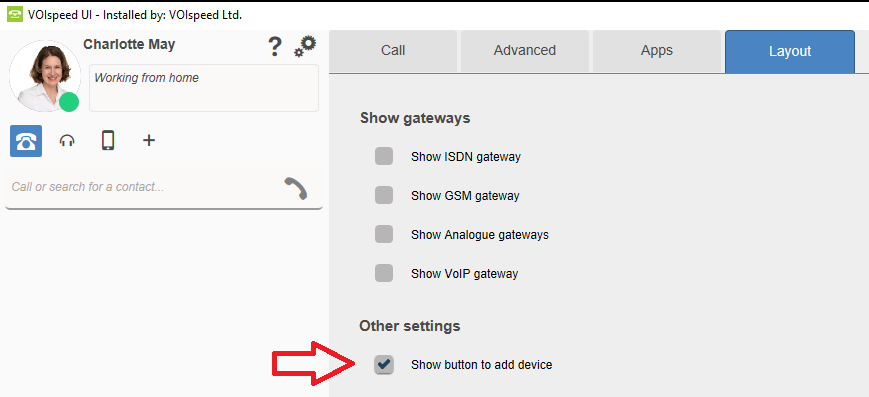 If the option is correctly configured, a '+' icon will appear in the call TAB of your UI which lists the devices already available to you.
By clicking on the '+' button next to the device section on your UI, a dialogue box will appear from which you can select the type of device to add.

NB. If no dialogue box appears when you press the '+' key to add the new device, you probably do not have the required user rights.  If this is the case, please contact your phone system administrator.
Sending DTMF tones/ Using the keypad
During a call, you can send DTMF tones. For example, to select an option of an automatic responder you simply click on the "keypad" icon located in the call area. This will open a numeric keypad from which you can click on the number corresponding to that DTMF tone.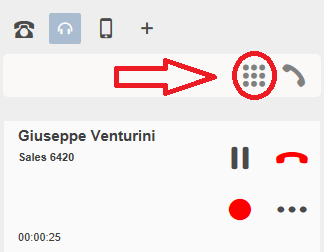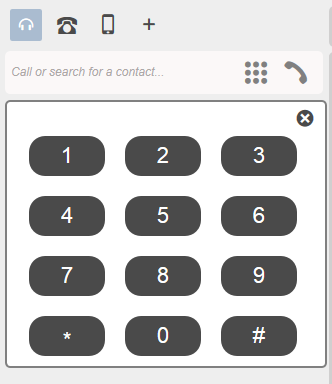 Ringtone management and Audio volume level configuration
When using the VOIspeed UI with a headset, the ringtone linked to the device activates when a call arrives.  If the user is busy however, there are two separate ringtone and settings: ringtones for all incoming calls and those when the user is busy.
Reject on busy ACTIVE:
If in the Call section of the Settings of your UI you select 'Reject on busy', when you are already in a conversation a new incoming call will play the busy tone. Alternatively, it will trigger the option 'On busy or do not disturb' drop-down menu of the same section on the right hand side. For example, in the image below, the new incoming call will be redirected to the user's voicemail:

Reject on busy OFF:
If in the Call section of the Settings of your UI the item Reject on busy is NOT selected, when the user is already on a phone call a new incoming call will reproduce the tone on the calling side. On the user side, it will cause the ringtone to start again to acoustically signal the arrival of the new call, which will also be visible in the call panel.
Lastly, please check and adjust the sound level of the ringtone in the Call section of your UI Settings. This ranges from  0 (ringer off) to 5 (maximum volume).