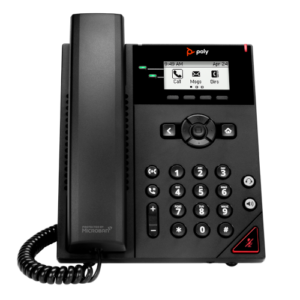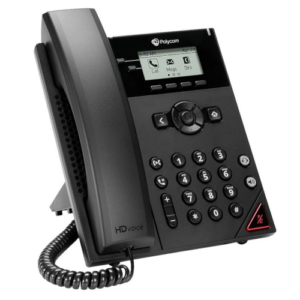 The Poly VVX 150 Business IP phone comes with our Business phone number offer for start-ups and micro-businesses:  https://voispeed.co.uk/new-business-landine-phone-number/  The VVX150 provides super clear conversations on a two-line VVX 150 phone that's affordable, easy to set up and everyone can use.  With the Poly Acoustic Fence eliminating background noise you can keep calls quiet wherever it's noisy from your home office or front lobby.
Features
USER INTERFACE FEATURES
• 2.5" graphical backlit monochrome LCD (132 x 64 pixel resolution)
• Voicemail support
• Reversible desk and/wall mount
• Unicode UTF-8 character support
• Multilingual user interface including Chinese, Danish, Dutch, English (Canada/ US/UK), French, German, Italian, Japanese, Korean, Norwegian, Polish, Portuguese, Russian, Slovenian, Spanish, and Swedish
FEATURE KEYS
4 context-sensitive "soft" keys
2 line keys with bi-color (red/green)
LED "Home" feature key
4-way navigation key cluster with centre "Select" key
2 volume control keys
Dedicated key for Back and Home, Hold and Transfer, Hands-free speaker phone, Headset and Microphone Mute.
AUDIO FEATURES
HD Voice delivers lifelike voice quality for each audio path handset,
the hands-free speakerphone, and the optional headset
Acoustic Fence technology removes background office noise heard by far end when using handset or wired headset
Poly Acoustic Clarity™ technology providing full-duplex conversations, acoustic echo cancellation and background noise suppression.